High quality self adhesive sticker printing retail security labels
Product Description
#detail_decorate_root .magic-0{width:750px}#detail_decorate_root .magic-1{overflow:hidden;width:750px;height:450px;margin-top:0;margin-bottom:0;margin-left:0;margin-right:0}#detail_decorate_root .magic-2{margin-top:0;margin-left:0;width:750px;height:450px}#detail_decorate_root .magic-3{vertical-align:top}#detail_decorate_root .magic-4{vertical-align:top;display:block;padding-right:4px;box-sizing:border-box;padding-left:4px}#detail_decorate_root .magic-5{vertical-align:top;padding-bottom:4px;box-sizing:border-box;padding-top:4px}#detail_decorate_root .magic-6{padding:0;margin:0;white-space:pre-wrap;font-size:14px}#detail_decorate_root .magic-7{text-align:center}#detail_decorate_root .magic-8{border-bottom-style:solid;border-bottom-color:#53647a;font-family:Roboto;font-size:24px;color:#53647a;font-style:normal;border-bottom-width:2px;padding-top:8px;padding-bottom:4px}#detail_decorate_root .magic-9{margin-bottom:10px;line-height:0}#detail_decorate_root .magic-10{margin-bottom:0}#detail_decorate_root .magic-11{position:relative;width:100%}#detail_decorate_root .magic-12{overflow:hidden;width:750px;height:648px;margin-top:0;margin-bottom:0;margin-left:0;margin-right:0}#detail_decorate_root .magic-13{margin-top:0;margin-left:0;width:750px;height:648px}#detail_decorate_root .magic-14{width:750px;border-collapse:collapse}#detail_decorate_root .magic-15{min-height:18px;padding:5px 10px;width:198px;min-height:18px;box-sizing:content-box}#detail_decorate_root .magic-16{font-size:14px}#detail_decorate_root .magic-17{min-height:18px;padding:5px 10px;width:502px;min-height:18px;box-sizing:content-box}#detail_decorate_root .magic-18{overflow:hidden;width:750px;height:81px;margin-top:0;margin-bottom:0;margin-left:0;margin-right:0}#detail_decorate_root .magic-19{margin-top:0;margin-left:0;width:750px;height:81px}#detail_decorate_root .magic-20{overflow:hidden;width:750px;height:750px;margin-top:0;margin-bottom:0;margin-left:0;margin-right:0}#detail_decorate_root .magic-21{margin-top:0;margin-left:0;width:750px;height:750px}#detail_decorate_root .magic-23{overflow:hidden;width:750px;height:144.64285714285714px;margin-top:0;margin-bottom:0;margin-left:0;margin-right:0}#detail_decorate_root .magic-24{margin-top:0;margin-left:0;width:750px;height:144.64285714285714px}#detail_decorate_root .magic-25{overflow:hidden;width:247.33333333333334px;height:342.62626262626264px;margin-top:0;margin-bottom:0;margin-left:0;margin-right:0}#detail_decorate_root .magic-26{margin-top:0;margin-left:0;width:247px;height:342px}#detail_decorate_root .magic-27{overflow:hidden;width:247.33333333333334px;height:342.4615384615385px;margin-top:0;margin-bottom:0;margin-left:4px;margin-right:0}#detail_decorate_root .magic-28{overflow:hidden;width:247.33333333333334px;height:346.90909090909093px;margin-top:0;margin-bottom:0;margin-left:0;margin-right:0}#detail_decorate_root .magic-29{margin-top:0;margin-left:0;width:247px;height:346px}#detail_decorate_root .magic-30{overflow:hidden;width:247.33333333333334px;height:346.46693657219976px;margin-top:0;margin-bottom:0;margin-left:4px;margin-right:0}#detail_decorate_root .magic-31{overflow:hidden;width:750px;height:1644px;margin-top:0;margin-bottom:0;margin-left:0;margin-right:0}#detail_decorate_root .magic-32{margin-top:0;margin-left:0;width:750px;height:1644px}#detail_decorate_root .magic-33{overflow:hidden;width:750px;height:719.6078431372549px;margin-top:0;margin-bottom:0;margin-left:0;margin-right:0}#detail_decorate_root .magic-34{margin-top:0;margin-left:0;width:750px;height:719.6078431372549px}#detail_decorate_root .magic-35{overflow:hidden;width:750px;height:1005px;margin-top:0;margin-bottom:0;margin-left:0;margin-right:0}#detail_decorate_root .magic-36{margin-top:0;margin-left:0;width:750px;height:1005px}#detail_decorate_root .magic-37{font-size:24px}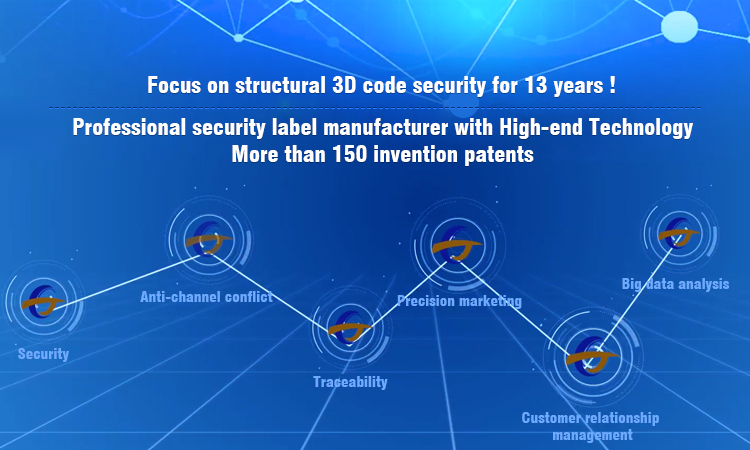 High quality self adhesive sticker printing retail security labels Product Description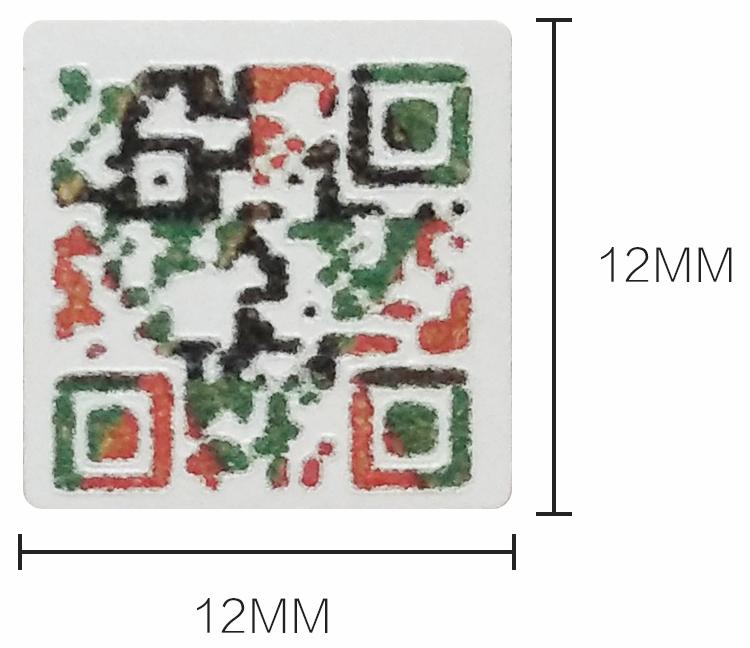 | | |
| --- | --- |
|  Type |  Adhesive sticker |
|  Material |  12 or 15 Micron PET |
|  Color |  Multicolor (Green, red and blue) |
|  Size |  12mm X 12mm or customized |
|  Q'ty |  One sheet of 80 pieces |
|  Pattern |  General design |
|  Features |  Anti-counterfeit, brand protection |
|  Shape |  Flat or customized |
|  Quality |  High |
|  Finished Form |  Die cutting by sheet or roll supply |
|  Certificate |  ISO9001 |
|  Industry Application |  Alcohol&Cigarette,Medicine,Pharmaceutical,Domestic appliance,Cosmetic ,Ticket and Certificate , etc. |
|  Other Available |  UV print , 3D code |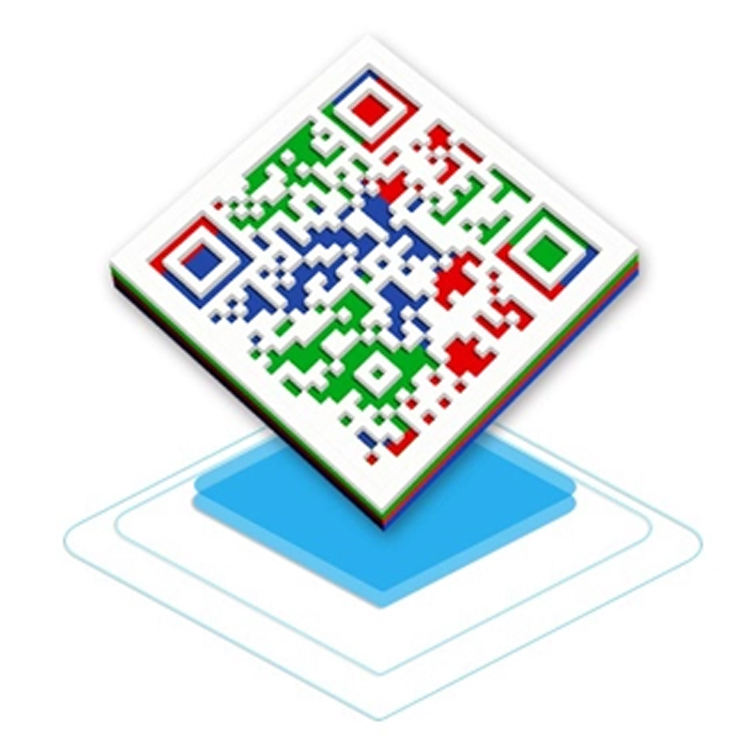 1. It is the proprietary structural material ,and we have the international invention patent .
2. The anti-counterfeiting elements and information sets are randomly carved on the material by a physical way.
3. The different parts of the label has different structural features by different depth and color.
4. Each label is unique ,three-dimensional ,structural and non- reproducible.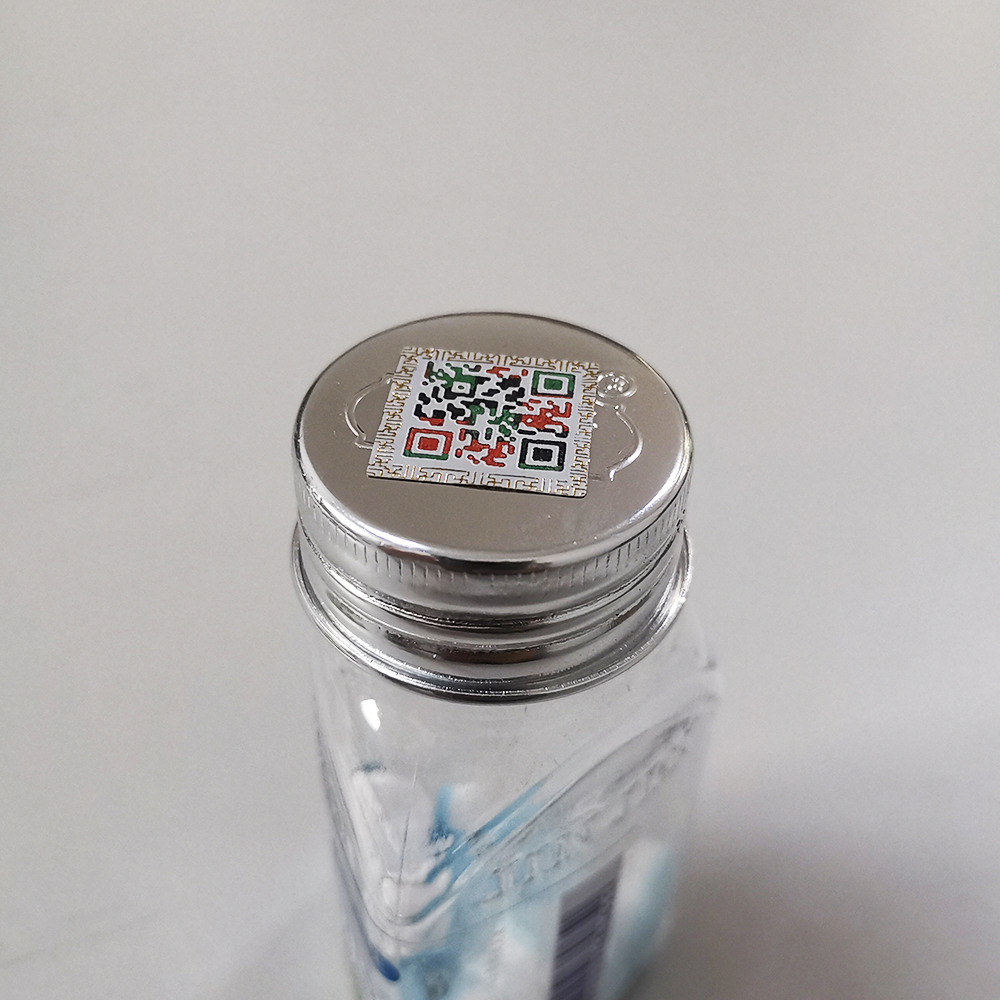 Related Products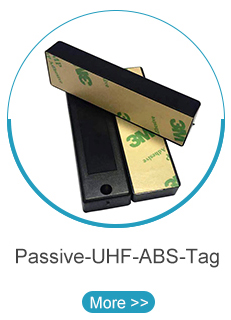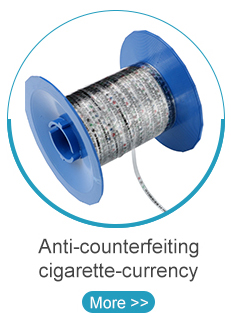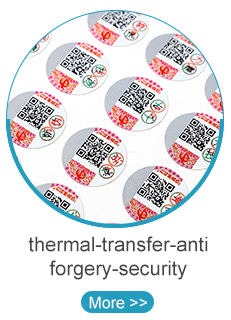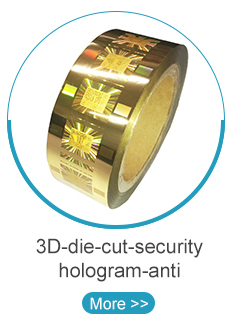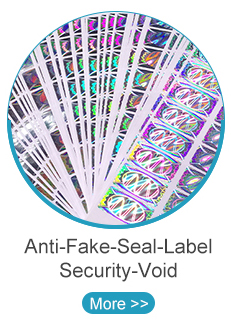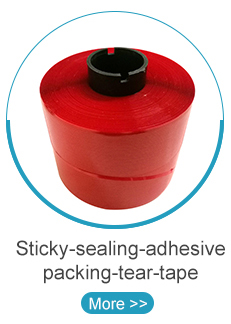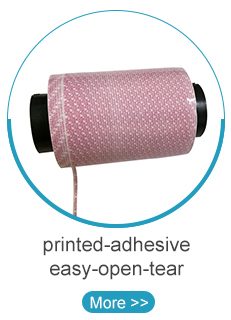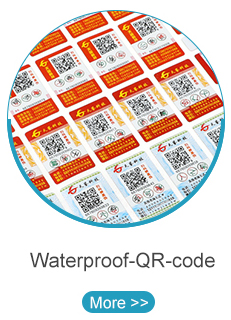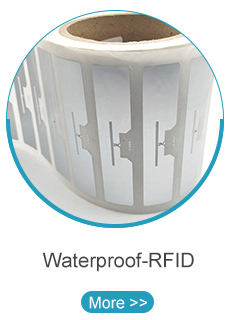 Company Information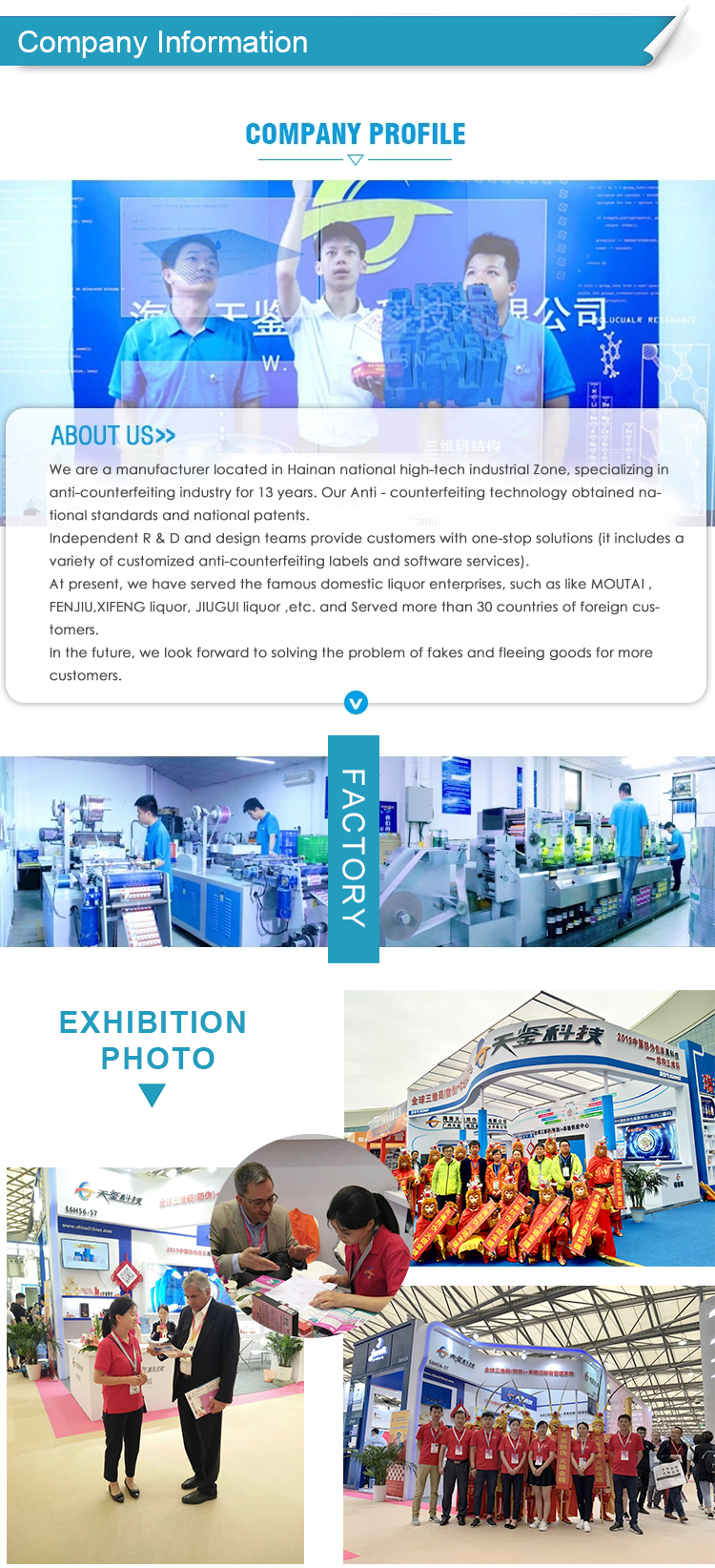 Certifications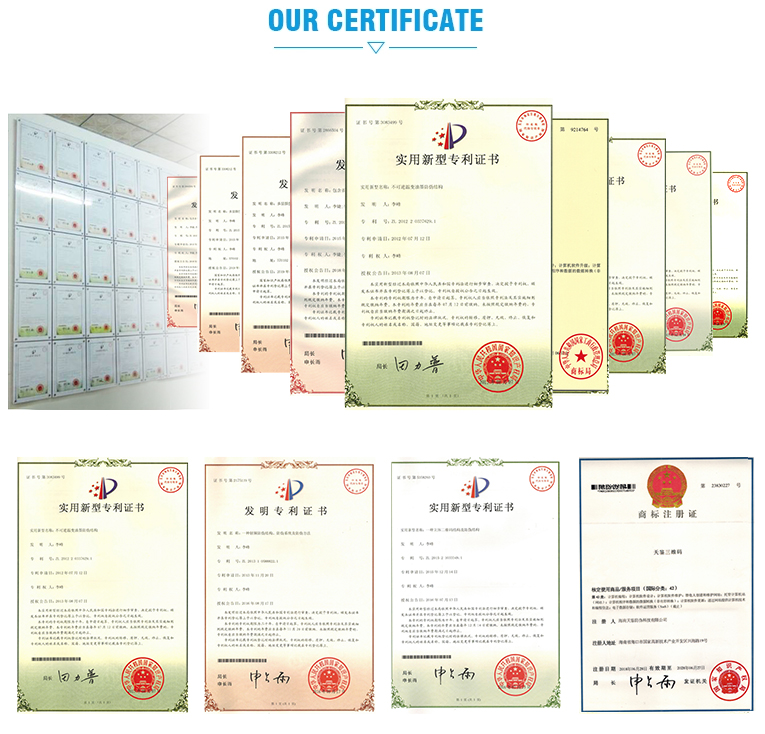 Packaging & Shipping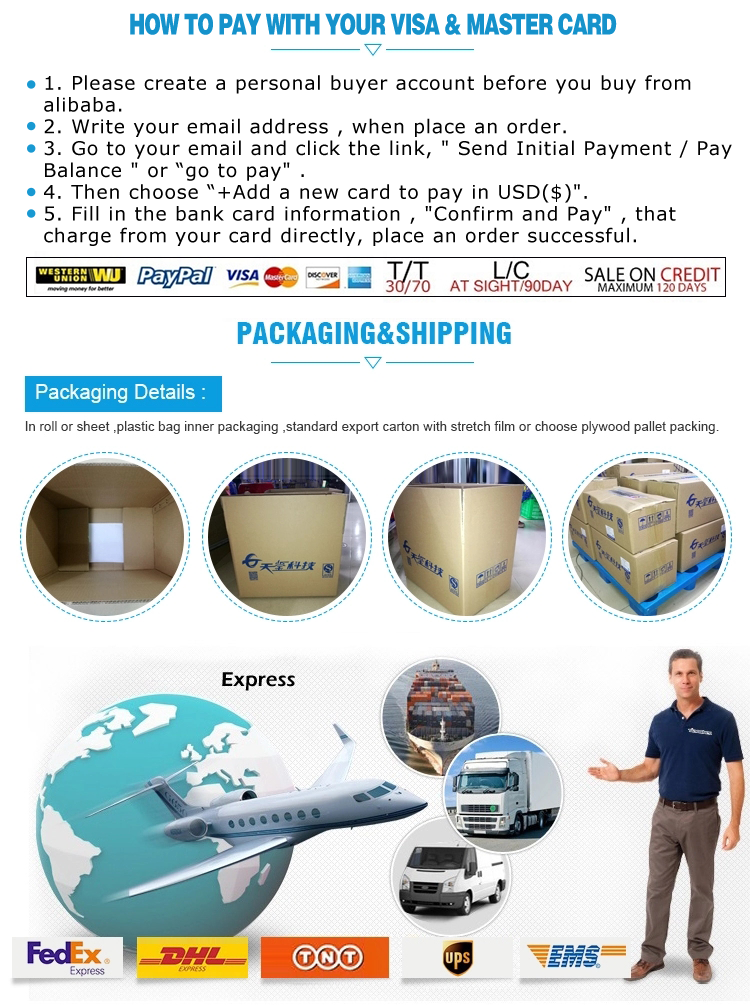 Related product list
1.2D/3D
Hologram Label
sticker 2.QR code label 3.QR code sticker with serial number 4.
Scratch off
stickers with qr code 5.Logo
Printing label
6.Tamper evident hologram label sticker 7.Waterproof tamper sticker 8.Rainbow
Hologram Sticker
label 9.
Holographic VOID security label
10.
Printing VOID security label
11. Character anti-counterfeiting label 12.Anti-fake label with security thread Contact us if you need more details on printing retail security labels. We are ready to answer your questions on packaging, logistics, certification or any other aspects about anti-fake retail security labels、supermarket retail security labels. If these products fail to match your need, please contact us and we would like to provide relevant information.
Product Categories : 1-The Structural 3D code > 3D code label(ready to ship)